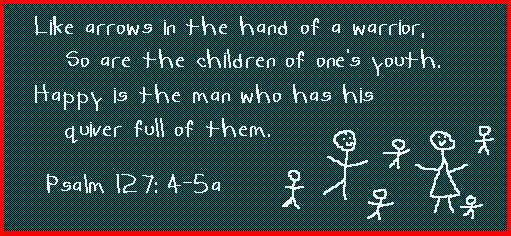 I want to write about this in the best way possible… I may have even touched on this before, but once again I find myself at a crossroads with people, in which I have to always reflect upon myself and respond in a Christian manner. Recently I've gone to the Lord and asked for guidance on how to handle situations like this. And even more recently He has led me to ways to answer when in this situation.
It's no secret that I have long been a fan of the Duggar's, the Jeub's, and the Bates families. They all have many children and believe that it is God who ultimately decides how many children you should have. My husband and I have the same belief, we are fortunate to have five small children and would love if we were blessed with five more… Ultimately, birthing one more seems to be our only option per the medical advice we have received, for my safety and that of an unborn child, one more of our own is really the only option, so we will take that with a grain of salt and know that there are other options in order to have additional children which if it is in His plan we will seek. There are many children seeking adoption who need a good home just as mine do, and if that is the plan then we will walk that road.
Two statements from Chris Jeub and Jim Bob Duggar really helped bring me to peace with this. (These may be slightly paraphrased)
Jim Bob said: "You will never regret spending too much time with your family and your kids!"
Chris tweeted: "When asked if we know what causes that, we reply: Yes! And we're really good at it!"
These two statements remind me A.) growing a family is worth all the rewards, and it's the memories you make with the people you love that matter, NOT that of others around you that simply don't understand. B.) Take peoples comments with a grain of salt and remember a little dose of humor goes a long way. There will never be a time that everyone understands your reasoning or your ways, but live firm in your beliefs and know that with God all things are possible.
May God Bless you and your day!
Amanda