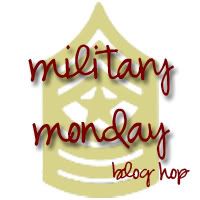 It's Monday, and time for another Military Monday blog hop! I am so thankful for the network of military wives that I have been able to follow and converse with. I recently received an email from a nice woman as well as many nice comments from others. They really got me thinking. It is so nice that our journey and our experiences are informational for you.
I have been having a blog rut, a school rut, and I even found myself in the self loathing of I just want my husband home rut. I even was feeling sorry for myself. I thank the Lord for words of encouragement that I received. I also thank some pretty amazing friends for their support... and a pretty amazing husband who reminds me that we will be together soon enough and that our next journey will be together because this ends his training for a while. :)
Don't forget to see the previous post for my giveaway and the rules to be entered in the giveaway.
May God bless you all daily!
Amanda